Man of the Nuba people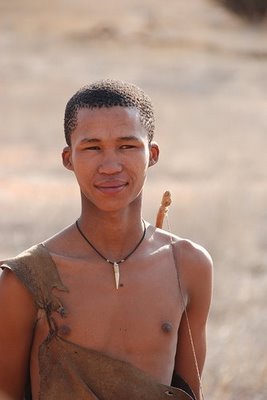 Khoisan Bushman another African people
with representation of B haplotype
In human population genetics, haplogroups define the major lineages of direct paternal (male) lines back to a shared common ancestor.
Haplogroup B
(
B-M60
) is a
Y-chromosome haplogroup
common to paternal lineages in
Africa
, in
Arabian Peninsula
and in
Eurasia
.
Distribution
Haplogroup
B-M60 is found in sub-Saharan Africa, especially to tropical forests of West-Central Africa. After Y-haplogroup A, it is the second oldest and one of the most diverse human Y-haplogroups. It was the ancestral haplogroup of not only modern
Pygmies
like the
Baka
and
Mbuti
, but also
Hadzabe
from Tanzania, who often have been considered, in large part because of some typological features of their language, to be a remnant of
Khoisan
people in East Africa.
According to one study of the Y-DNA of populations in
Sudan
, haplogroup B-M60 is found in approximately 30% (16/53) of
Southern Sudanese
, 16% (5/32) of local
Hausa people
, 14% (4/28) of the
Nuba
of central Sudan, 3.7% (8/216) of
Northern Sudanese
(but only among
Copts
and
Nubians
), and 2.2% (2/90) of
Western Sudanese
.
[5]
According to another study, haplogroup B is found in approximately 15% of Sudanese males, including 12.5% (5/40) B2a1a-M109/M152 and 2.5% (1/40) B-M60(xM146, M150, M112).
[7]
In
Madagascar
, haplogroup B-M60 has been found in approximately 9% of
Malagasy
males, including 6% (2/35) B-M60(xB2b-50f2(P)) and 3% (1/35) B2b-50f2(P).
[12]
In
Hormozgan Province
in
Iran
, haplogroup B-M60 has been found in 8.2% of a sample of 49
Qeshmi people
, and in 2.3% of a sample of 131
Bandari people
.
[13]
In
Afghanistan
, haplogroup B-M60 has been found in 5.1% (3/59) of a sample of
Hazara
males.
[14]
In
United Kingdom
, haplogroup B-M60(xM218) has been found by
FTDNA
in 1
M60, M181/Page32, P85, P90, V62, V75, V78, V83, V84, V85, V90, V93, V94, V185, V197, V217, V227, V234, V237, and V44
Highest frequencies
Baka 63% (Gabon & Cameroon)

[1]

- 72% (CAR),

[2]

Hadzabe (Tanzania) 52%

[3]

-60%,

[4]

Nuer (South Sudan) 50%,

[5]

Mbuti (DRC) 33%

[6]

-60%,

[2]

Biaka (CAR) 35%

[6]

-55%,

[2]

Central Africa 32%,

[7]

Tsumkwe San (Namibia) 31%,

[2]

Khoisan 28%,

[7]

Shilluk (South Sudan) 27%,

[5]

Burunge (Tanzania) 25%,

[4]

Dinka (South Sudan) 23%,

[5]

Ngumba (Cameroon) 23%

[2]

-33%,

[1]

Eviya (Gabon) 21%,

[1]

Fali (Cameroon) 18%,

[6]

Sotho–Tswana (South Africa) 18%,

[2]

Zulu (South Africa) 17%,

[2]

Eshira (Gabon) 17%,

[1]

Shake (Gabon) 16%,

[1]

Hausa (Sudan) 16%,

[5]

Sukuma (Tanzania) 16%,

[3]

Bakola (Cameroon) 15%

[2]

-36%,

[1]

Copts (Sudan) 15%,

[5]

Sudan 15%,

[7]

Kunama (Eritrea) 15%,

[8]

Tutsi (Rwanda) 15%,

[9]

Sandawe (Tanzania) 15%,

[4]

Uldeme (Cameroon) 5%

[6]

-31%,

[2]

Nuba (Sudan) 14%,

[5]

Makina (Gabon) 14%,

[1]

Southern Africa 13%,

[7]

Mali 11%,

[7]

Ewondo (Cameroon) 10%,

[6]

Ethiopia 10%,

[7]

Shona (Zimbabwe) 10%

[2]

Qeshmi (Iran) 8,2%,

[10]

Bandari (Iran) 2,3%,

[10]

Hazara (Afghanistan) 5,1%,

[11]